For over 50 years, people have flocked to Sea World on the Gold Coast to get their fix of rides, food, and dolphins.
However, the best way to see these incredible mammals is to journey further than the theme parks and see the animals in the great wild!
We are spoilt for choice on the Gold Coast, with several popular options for dolphin watching, depending on how close you want to get to the water. You might be lucky enough to see several of the different species of dolphins who have made their home in the waters of the Gold Coast.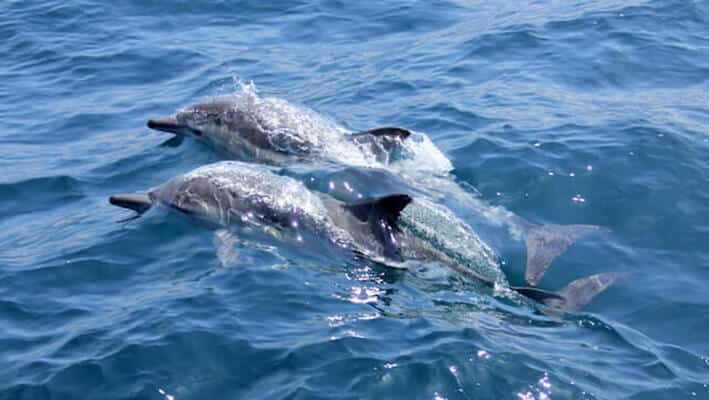 For those of you without sea legs, there are plenty of land-watching options to see the dolphin migration from afar.
Head to the Broadwater inland lookout at Broadwater National Park for gorgeous views of the Pacific Ocean for dolphin and whale watching opportunities. Make your way over to the Broadwater Beach picnic area for lunch and a rest.
Get some sand between your toes and give the dogs a run at 'The Spit'. Ten minutes drive north of Surfers Paradise, you have a 5km dog-friendly beach and a long seawall with a lighthouse at the end which is a great spot to see dolphins in the surf.
Alternatively, when you're walking along the seawall, look north onto the water between The Spit and South Stradbroke Island to spot dolphins making their way into the open ocean. Come to The Spit around sunset time and you'll be almost guaranteed to see wildlife and a beautiful sunset.
Dolphin & Whale Watching Tours
If you want to get out on the water, but not in it, dolphin and whale watching tours are always a popular choice. Sit back and relax in the comfort of the boat or take a more active role by joining a research tour, where you can not only see the dolphins in the wild but can also contribute to the research yourself.
Cooly Eco Adventures runs interactive research experiences where onboard marine scientists will guide you in recording vital dolphin observations.
Knowledgeable guides can point out information such as the distinctive identifying fin patterns of the dolphins they are tracking, and you will leave with a much deeper knowledge and understanding of these incredible animals.
Kayaking and Snorkelling Tours
Wanting to get even closer? Paddle through the gorgeous Gold Coast waters as pods of dolphins swim around you. If snorkelling is more your style, be sure to bring your underwater camera for those gorgeous, 'make your workmates jealous' photos.
Seaway Kayaking Tours are a family-friendly option, supplying life jackets, paddles, and snorkelling kits for kids from the age of 4 and up. Their experienced tour guides take photos during the whole tour, so you can keep an eye on your little ones and look back on the digital photos later.
If you're looking for the best way to really get up close to some friendly dolphins, without sacrificing speed and adventure, look no further than our Jet Ski Safari and Jet Boating Tours.
Voted as "Best of Queensland Experience 2022", we have enough Jet Ski and Jet Boating tour options to keep everyone happy.
Taking passengers from ages 7 and up, we navigate the beautiful waters from South Stradbroke Island to the Broadwaters where you can meet the local dolphins up close and in style. Check out our Wildlife Encounters gallery page.
Whichever viewing option you choose, do your research, book early, and you will ensure a memorable trip. The Gold Coast offers so many options to see these intelligent and majestic animals, why stop at just one?