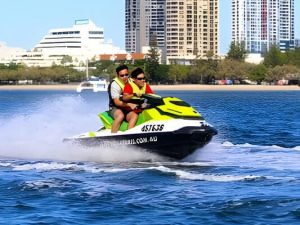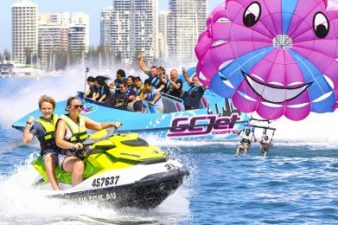 Father's Day less than a fortnight away! Have you got dad a gift? How about bringing dad down for an epic Jet Ski Safari?
This year we're bringing you our awesome 1.5hr island safari with extended island stop! The package also comes with a $30 brekky voucher for you to use at Tippler's Café ASWELL AS your photo package for when you return back to base for only $135pp ($270 per ski)!
Think outside the box this year and get him a gift sure to make all his mates jealous and make you the favourite child! Rip and tear through the epic Gold Coast Waterway with us at high throttle speeds of up to 70km/hr, while the sun shines and the water sparkles!😉
Come on down nice and early on Sunday the 4th of September 2022 and join us for our epic Father's Day breakfast safari. Starting at 8am, we'll jump on the skis and weave and wind our way up to South Stradbroke Island, stopping at the beautiful beachfront Tippler's Café. This is where you get to use your $30 breakfast voucher to enjoy a beautiful waterfront breakfast and a refreshing swim in the pristine waters north of Surfers Paradise before heading back to base. And don't forget – your photos will be waiting at the desk for you upon your arrival back to base for some awesome keepsake memories for you and dad!
Our famous Father's Day safari is one of the best trips of the year and we'd hate for you to miss out!  Jet Ski Safaris is the number one voted watersports activity to do on the Gold Coast, so bring dad down for an experience he'll never forget, and a gift he will never stop talking about!
And if you're after a day jam-packed full of fun activities on the water, how about booking a jet boat or parasail as well?! Pair your jet ski safari with another ultimate watersports activity like a 30min jetboating thrill ride or an epic parasailing adventure where you float 400 ft above the water! You can book these packages here!
Call us now on 0409 754 538 or book here before you miss out!
Ts and Cs apply – read here