If you regularly use your jet ski around coastlines, you might have been tempted to park it on the sand.
Whilst it is a tempting way to impress your fellow beachgoers, it is quite unsafe if precautions are not taken beforehand.
This article demonstrates how you can do it in a way that presents a lower risk to your vehicle.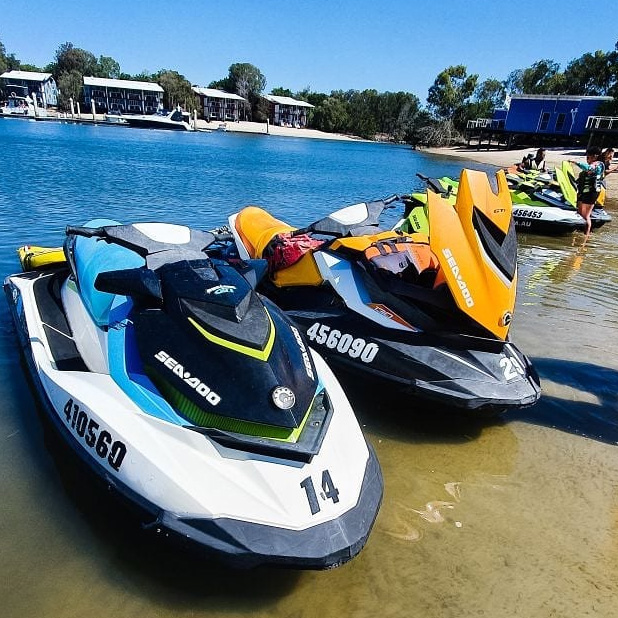 For those who are unaware of the term, beaching is when you drive your jet ski onto the beach. This is usually out of convenience, to save getting wet or to avoid the time it takes to anchor your ski out in the open water.
It might surprise you to know that beaching a jet ski is illegal in some places, and some beaches have passed laws that do not allow personal watercraft there at all – on land or sea!
Always remember to check local laws to stay safely inside any legal boundaries.
When choosing a beach to park at, you need to gauge how much debris it contains. The presence of lots of hard objects will scratch your hull whichever way you choose to beach it, so you want to avoid these conditions where possible.
Jet skis utilise something called an axial jet pump propulsion system, which takes up water into a grate and then shoots it back out at a high velocity. Because of this, the main risk will be objects found in the shallow waters like seaweed, rocks and rubbish getting sucked up into the pump and trapped in the impeller or getting stuck in the exhaust pipe to the cooling system.
Both of these will cause severe damage to your water ski, causing it to overheat and stop running if the obstruction is not seen to immediately.
How To Beach Your Jet Ski Safely
You must slowly approach the bay – straight on, to avoid any overturning – and turn your engine off when the water reaches less than three feet deep. Then, drag your watercraft onto the beach by hand. Doing this also prevents it from running dry, which can also cause extensive problems for the engine.
Alternatively, you can let the momentum of the waves bring you to shore naturally. This will take a bit more time but saves you the effort of getting your shorts wet.
Once your jet ski is on the beach, add a sand anchor for peace of mind. You will likely agree that the thought of returning to find your watercraft floating away is not a pleasant one! For a safer parking alternative to beaching, try anchoring in deeper water, in a similar fashion to boats, to avoid any of the hassles listed above.
Be aware of the tide. If it appears to be coming in, leave your craft further up the sand. If it appears to be going out, park it as close as you can to the edge of the water.
The safest way to get your beached vehicle back to the water is to drag it back down manually. Never force it back by using the braking system, as this will cause irreparable damage.
In three-foot-deep water, clean the pump by rocking the jet ski side to side and pushing down its rear several times, which will remove any debris. Then, start up the engine and be on your way.
Hopefully, we have provided you with the necessary information on how to safely park your jet ski.
Whilst it can be risky to beach one, just remember to take these precautions, and have fun whilst doing so on one of our jet ski tours or hires!
Ready To Escape Everyday Life?
Call our trusted and knowledgeable team on 0409 754 538  or book here we will take you through how to get the best out of your exciting experience with Jet Ski Safaris.