Jet skis offer fun, excitement and fast transportation around the Australian coast. Jet skis are easy to drive, fast and convenient, but not many people know how they actually work. A jet ski is considered a personal watercraft, and not a boat, and it works in a slightly different way to speedboats and other vessels.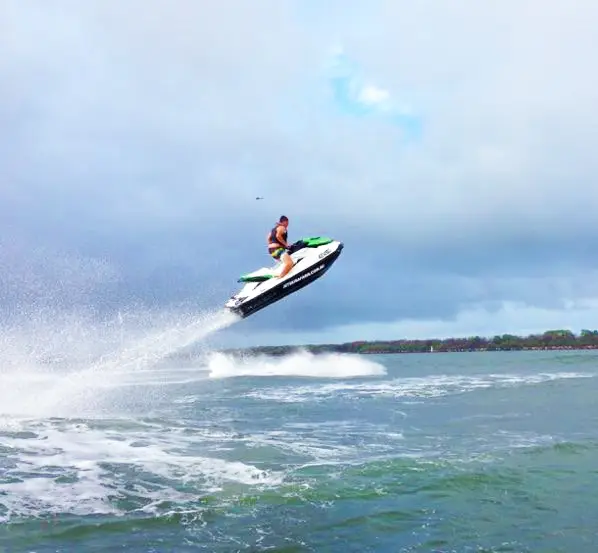 A jet ski essentially works by pulling in water from the front and pushing water out at the back. This acts a little bit like the wheels of a car, propelling the jet ski along the surface of the water. The majority of the forward propulsion of the jet ski comes from the expulsion of water from the back of the jet ski, which collides with the surrounding water to push your jet ski forwards.
It might be easier to think of the operation of a jet ski by comparing it to swimming; just as when you swim, you propel yourself forwards pushing the water around you, a jet ski moves forwards using water expelled from its back end to do the same. Similarly, when a rocket takes off from its platform, you can see a trail of fire and smoke; this is what the rocket uses to generate thrust, just like a jet ski uses water expulsion to generate thrust in the water.
How Does A Jet Ski Engine Work?
At the front of the jet ski, an impeller – a particular kind of motorised fan – draws water into the engine of the jet ski, bringing in a constant stream of water while the jet ski moves forward. This stream of water is pushed out of the back of the jet ski's engine by a jet propulsion system which moves the jet ski forwards.
Standardly, jet ski motors might pack in around 150 horsepower, which is plenty to keep them moving along the surface of the water at a good speed, often around 40mph.
If you want to understand how a jet ski works in more detail, we can take a look at the operation of a jet ski in stages:
An intake grate at the bottom of the jet ski sucks water into the engine via an impeller
The impeller is powered by the jet ski's engine, which might most commonly be a 4-stroke engine
The engine powers the impeller and the water pump, which pushes the water out of a steerable nozzle at the back of the jet ski
The steerable nozzle is smaller in size than the intake grate, which helps to build speed
The expulsion of water propels the jet ski forwards in line with Newton's third law: every action has an equal and opposite reaction
A jet ski is steered using handlebars connected to the water jet, which will change angle based on your steering
The jet ski engine is also cooled by a cooling system, usually either a closed-loop or an open-loop cooling system.