The Gold Coast has arguably some of the best beaches in Australia, if not the world. Its golden sands, crystal blue waters, and many hidden lagoons make the area an absolute standout for anyone wanting to visit a piece of paradise.
With international borders still being effectively closed to most Australian states, many locals and tourists from other states are looking for standout Aussie locations that they can visit for a trip to remember.
With so many beautiful places to visit along the coast, QLD can and does deliver spectacularly. For a unique view of the Gold Coast and surrounding areas, there's no better way to explore it than by jet ski.
Take a look at just some of the beautiful places in the northern Gold Coast and South Straddie that are worth jumping onto a jet ski to explore.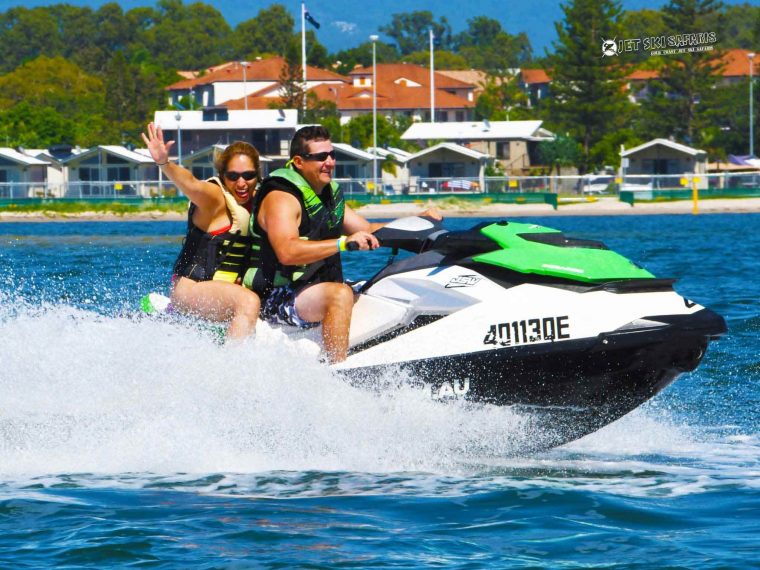 As you're heading past The Spit, you'll no doubt see a small island to your left. Wave Break Island is a man-made island, created in 1985, that has become popular with tourists and locals alike who are looking for somewhere to spend the day off the beaten track.
Accessible only by jet ski or boat, you can stop and enjoy a leisurely lunch or spend some time exploring around the Island. Just be careful of people in the water; Wave Break Island is a fantastic place for swimming and snorkeling due to the gentle drop into the water.
2. Couran Cove, South Stradbroke
As you travel further up the shores of South Straddie's western shores, you'll soon come across Couran Cove. Couran Cove is a tropical paradise, accessible only by boat or jet ski. Located in the heart of the Cove is Couran Cove Resort, located on the water's edge where the resort is cleverly integrated into the surrounding tropical environment.
With white-sand beaches, lush tropical rainforest and the sounds of birds fading into the distance, you won't ever want to leave. The surrounding forests are filled with native wildlife, so you're sure to experience a little bit of everything South Straddie has to offer.
Consider stopping to enjoy some of the pristine environment before jetting off to your next destination.
3. Southern Moreton Bay Islands
As you're jet skiing up past South Stradbroke Island, you'll soon come to a protected bay that is dotted with hundreds of small islands. Moreton Bay is an important coastal area of Australia's Eastern Coast and is an absolute wonder for anyone wanting to visit and explore.
With approximately 360 small to large islands scattered around, the best way to see them is by jet ski. Zip through the calm waters of the bay and enjoy the fact that all the surrounding islands help to shelter you as you explore.
You'll be treated to a pristine environment, plenty of marine life under and around you, heritage-protected wetlands, mudflats, and waterways. If you're lucky you may even catch a peek of dugongs, dolphins or sharks as you make your way throughout the bay.
During our 2.5 hour ultimate jet ski safari you'll be able to discover the bay up to North Straddie (North Stradbroke Island) and around Eden Island, Crusoe Island, Short Island and more.
Heading out on a jet ski gives you a view of the coast that few people get to experience.
If you want to explore the coast and make your trip unforgettable, get in touch or call Jet Ski Safaris on 0409 754 538 today.
With plenty of different jet ski tours available, you can opt for a quick ride around some great spots or choose to go out on a longer adventure to dip your toes into some of the best areas along the coast.