School holidays are an exciting time for the whole family to enjoy some fun and adventure. They're the perfect opportunity to go exploring without the constraints of having to be back in time for school on a Monday morning. However, with so much time on their hands, it can sometimes be difficult organising enough activities to keep the kids entertained throughout the endless weeks of free time. Keeping the family entertained doesn't have to be hard, though. For anyone lucky enough to be spending their summer school holidays on the Gold Coast, there are multitudes of activities for you and the family to enjoy. The hardest part will be deciding which activities to tackle in your spare time!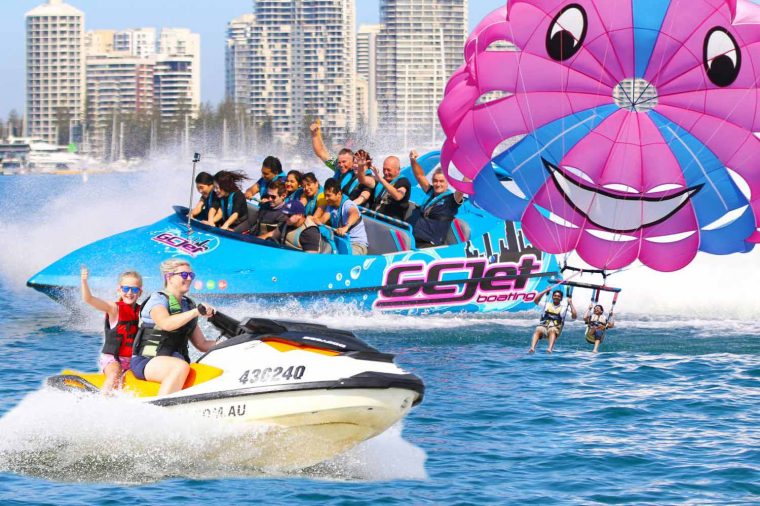 1. Spend a day jet skiing
If you're looking to spend some time out on the water and want to see the Gold Coast from a whole new perspective, why not spend a day or two jet skiing? Jet skis are not only a load of fun for the whole family, but you can book a tour that will take you to some of the Gold Coast's best spots. These tours range from a quick spin down the beach through to a more in-depth tour that will take you all up and down the coast. Jet ski prices start at around $130 for a basic experience.
2. Try jet boating with your family
The Gold Coast has some of the best beaches and rivers in the country. Jet boating is one of the most popular adventure sports on the Coast, and it's easy to see why. A high-energy adventure that all of the family can enjoy, jet boating is an adrenaline rush that you won't forget any time soon.
3. Parasailing should be on your list
Ever wanted to fly like a bird along the beautiful Gold Coast? Well, now you can. For those of you who aren't afraid of heights, parasailing could be the perfect activity to try during your summer school holidays. It's a fantastic way to take in the unique view of the coast and hinterland and is the perfect way to give the adrenaline junkies among us a good kick that they won't soon forget. Parasailing costs start at approximately $75 per person.
4. Visit Currumbin Wildlife Sanctuary
Currumbin Wildlife Sanctuary is the perfect place to visit for any animal and wildlife lovers out there. Currumbin is home to a huge variety of wildlife, including koalas and pandas, lemurs and echidnas and everything in between. With a focus on helping endangered animals back from the brink of extinction, Currumbin is both a fun and worthwhile place to spend a day or two of the school holidays. You can even take a private tour of their world-renowned Wildlife Hospital to see more of the effort that goes into helping animals in need. From just $149.95, the whole family can spend the day experiencing the magic of Currumbin.
5. Visit a theme park or two
The Gold Coast is renowned for its theme parks. With everything from Movie World that boasts fantastic roller coasters to Wet n Wild where you can easily spend hours trying out all of the water slides and pools, you can spend days exploring some of the Gold Coasts best attractions. Theme park prices start at just $169 for access to all of the top parks.
6. Go horseback riding through the hinterlands
If you have always wanted to try horseback riding, then this could be the perfect opportunity. Thunderbird Park in Tamborine Mountain boasts 112-hectares of beauty for you to explore on horseback. With plenty of different circuits available to suit every skill level, you're sure to have a great day at the park.
With so many fun and adventurous activities available for you and your family to enjoy on the Gold Coast, your school holidays are sure to fly by. If you're interested in booking the best jet skiing or parasailing adventures on the Gold Coast, give us a call today. Our friendly team will be able to help get your family booked in for a unique and action-packed adventure.