Here at Gold Coast Jet Ski Safaris, we offer a huge variety of Jet Ski Tours for you to enjoy, ranging from a beginner's 1km circuit to an 80km ultimate circuit for those thrill-seekers out there! Safety is extremely important when using jet skis and so we've created a step-by-step guide for beginners to make sure that you know how to keep yourself and others safe when partaking in one of our adventurous tours.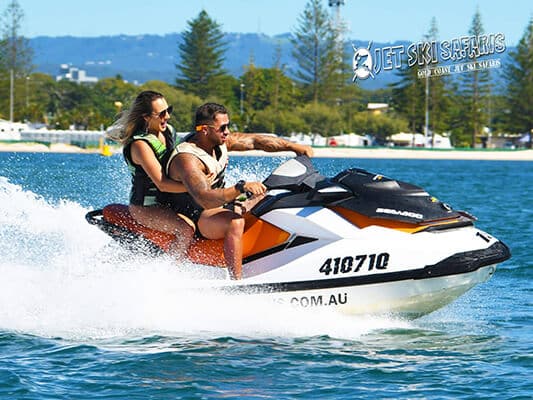 Is riding a jet ski easy?
Riding a jet ski can be easy for some people, but it may take some time and practice for others to become comfortable with the controls and handling. It is generally easier for those familiar with operating small boats or other personal watercraft. However, anyone can learn how to ride a jet ski with proper instruction and by following safety guidelines.
Make sure to choose a lifejacket which is the appropriate size for your body and weight to maximise its efficiency. Our team are always there to help!
Attached to the jet ski, this lanyard will either go around your wrist or be attached to your lifejacket. Also known as the kill switch, this lanyard will cut the engine in case you fall from the jet ski.
Make sure you have this to signal you are having any difficulties or to warn others around you.
Make sure you are seated in a comfortable position with your hands on the handlebars and feet securely in the footrests of the jet ski.
Using the key attached to your lanyard, turn on the ignition of the jet ski at the switch.
Slowly push the throttle so that you begin to move forward.
Continue slowly until you are safely away from the shoreline – it is recommended that you stay at around 5-10mph until you are further away from the shore.
Gradually increase the speed of the jet ski – only do this when you have made sure that you are a safe distance from shore, any boat traffic and swimmers.
When turning, maintain a steady speed and lean toward the direction that you wish to turn to – to avoid the jet ski capsizing, try to keep the weight on the jet ski centred and maintaining balance when you are turning.
What are the controls on a jet ski?
The controls on a jet ski typically include a throttle, steering handles and a brake or reverse lever. The throttle is used to control the speed of the jet ski, the steering handles are used to turn the jet ski and the brake or reverse lever is used to stop or move the jet ski in reverse. Some jet skis may also have additional controls for other functions, such as a trim tab or a lanyard kill switch.
Stick to the weight limit of your jet ski – do not overload the jet ski's weight limit.
Maintain a lookout.
Hold tight onto the driver to avoid falling off.
Make sure that when turning, you also lean into the direction of the turn with your driver.
Do you lean into a turn on a jet ski?
Yes, when turning a jet ski, you should lean your body in the direction of the turn. This helps to balance the jet ski and maintain control during the turn. It is important to practice proper body positioning and control techniques to ensure safe and comfortable operation of the jet ski.
What to do when you fall off – Reboarding safely
If the jet ski is capsized/face down in the water, carefully turn your jet ski upwards to the water surface.
Make your way to the stern (the back of the jet ski) to reboard it – do not reboard from the side of the jet ski as it may fall onto you, which could cause an injury.
Use the handles at the back of the seat to hoist yourself up onto the jet ski.
Move back into your safely seated position and proceed to attach the safety lanyard.
If you follow these instructions, there's nothing to worry about!
How fast can a jet ski go?
The speed of a jet ski can vary depending on the specific model and conditions. Some jet skis can reach speeds of up to 60 mph or more, while others may have a lower top speed. It is important to operate a jet ski at a safe speed that is appropriate for the conditions and your level of experience.
Can you ride a jet ski in rough water?
Riding a jet ski in rough water can be challenging and potentially dangerous, especially for inexperienced operators. It is generally best to avoid operating a jet ski in rough or choppy water conditions if possible. If you must ride in rough water, make sure to use caution and reduce your speed to a safe level.
At Jet Ski Safaris, we ride in an area that is protected from waves, so you won't have to worry about rough waters and enjoy the perfect conditions for jet skiing.
We would love for you to experience our exciting tours at Gold Coast Jet Ski Safaris, whether you are a beginner or an experienced jet ski rider. No experience is necessary, so book your ultimate adventure today!
Please contact us via our contact form or call 07 5526 3111 if you have any questions, we're always happy to help.