Since many of us enjoy seeing the world, one of our main aims is to find the most well-known sites in that region. If you're living on or travelling to the Gold Coast, get ready to see some of the greatest spots the Gold Coast has to offer, including well-known destinations such as Springbrook National Park and Burleigh Heads National Park.
The northern part of the Gold Coast has some amazing nature spots and activities to offer. Read on to learn more about some of our favourite nature spots on the Northern Gold Coast in this guide.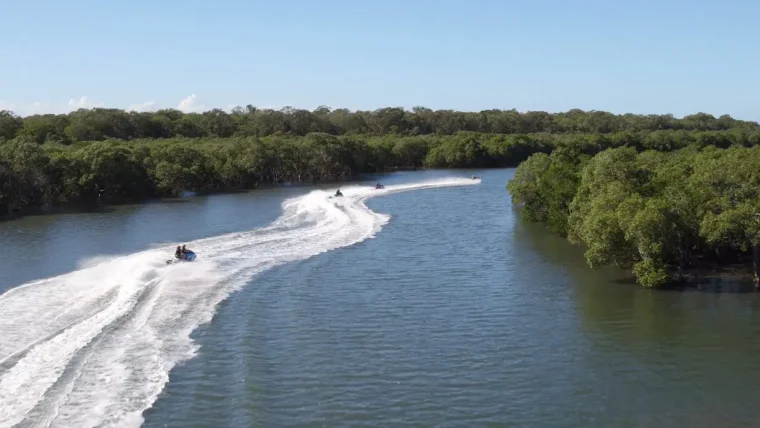 1. South Stradbroke Island
South Stradbroke Island or as the locals call it, South Straddie, is a gorgeous and natural wonderland that can be found just offshore at the northernmost tip of the Gold Coast. Since it provides a variety of camping, hotel, and privately owned accommodation options, it is a popular tourist destination for people who wish to get away from the crowds that may be found on the Gold Coast or in Brisbane.
On one side of South Stradbroke you'll find peaceful waterways, in the middle you'll find practically unspoiled natural bushland, and on the ocean side, you'll find 22 kilometres of beautiful surf beach with hardly anybody else around. It is a breathtaking place to see humpback whales make their yearly journey north to breed between the months of June and October.
2. The Southern Moreton Bay Islands
The Southern Moreton Bay Islands, which can be found in the state of Queensland in Australia, are home to an incredible array of activities and experiences, making it an excellent travel destination.
In March 2000, the Southern Moreton Bay Islands were designated as a national park. The park is comprised of numerous islands that are home to over half of the mangroves found in Moreton Bay. The tidal flats and mangrove forests offer a vast home for a variety of animals, including turtles, dugongs, birds and crustaceans. Some of the islands include the following:
Moreton Island: This is the third biggest sand island in the world and is found in the northeast of Brisbane in Australia. Choose to sand surf your way down gigantic sand dunes or go snorkelling at the famed Tangalooma Wrecks.
Peel Island: This is a small island located around 4 kilometres offshore. It is a popular destination for people who enjoy being on the water. Choose to pull out a blanket and enjoy a picnic on the island, go fishing, explore stunning sandstone outcrops or swim around reefs in the crystal blue water that surrounds the island.
Coochiemudlo Island: Coochiemudlo, sometimes referred to as Coochie, is located in the Redland Bay region. This island creates a fantastic aquatic playground for activities such as fishing, kayaking and other water sports.
3. Paradise Point mangroves
As one of the most northern parts of the Gold Coast waterways, Paradise Point is home to a promenade that is dotted with cafes and restaurants, both of which are visited by locals from the neighbouring islands of Ephraim and Sovereign. On the riverbank, there are a number of parks and BBQ areas that are a constant hive of activity and have proven to be incredibly popular with picnickers searching for the ideal site for a relaxing Sunday.
Contact Jet Ski Safaris today
Did you know that our expert and friendly team at Jet Ski Safaris uses 30km to 80km jet ski safaris to explore the islands, beaches and mangroves on the Northern Gold Coast? Whether you choose to go full throttle or at a more relaxed pace, we've got a safari route for you along the magnificent subtropical coasts of South Stradbroke Island. So, make sure to check out the safari routes for a fun-filled adventure on the Northern Gold Coast on our site today.