There's no better place than the Gold Coast for the ultimate bucks party. The warm sun beating down on you, sand between your toes, a beer in hand… But what if you need a plan and you want something more exciting and unique than sunbathing and visiting a few bars? In this list, we run down the best bucks party ideas that can all be done on the Gold Coast, which are sure to get the groom, best man and all their mates laughing and having fun before the big day.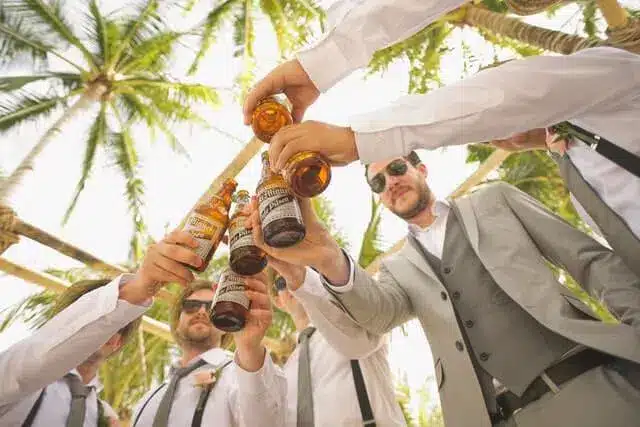 Paintball is a high energy, competitive activity that will get everybody messy. You could split into teams and challenge your cooperation, or all gang up on the groom-to-be – whatever suits. The best part about paintball is that it is versatile to fit your budget, with options for a smaller indoor course (like Gold Coast Indoor Paintball) for the lower end budgets alongside extensive outdoor versions (like Skirmish Gold Coast). Whatever you opt for, this is an adrenaline-packed adventure that is great for large parties.
In the same strand of paintball is axe throwing, another daredevil challenge for those brave enough to prove their strength and agility. You could easily pair these two for a day full of activities or do axe throwing on its own at Lumber Punks before heading out for a feast and a night out. Either way, drinks are on the loser!
If you don't fancy getting active and just want to dance the day away and enjoy the sun, hiring a party boat is a luxury choice. Enjoy the gorgeous sea views as you sip a beer or cocktail and maybe take a dip in between rounds. This is another choice that can fit multiple budgets, from small speed boats to high-end yachts for you to pick from, as well as public or private options depending on what you're after.
With a private option such as The Bucks 'A Pirate's Life For Me', you can blast your favourite tunes and choose your own route, so this is the perfect option for those wanting to make their bucks party their own.
Fancy getting out on the open water and get the adrenaline going? Want to have the ultimate sporty experience and control your own speed and destination? Then a Jet Ski Safari is the perfect idea, a truly unique experience that can suit big or small groups.
No experience or licences are needed as you hit top speeds along the blue waves. You can explore the Gold Coast's hidden islands at your own leisure and make friends with dolphins and turtles while perfecting your driving skills. This is a perfect mix of leisurely and exciting, so everyone at the bucks party will love it.
There are heaps of different jet ski tours to choose from, from 30 mins to 2.5h safaris, plus it's a brilliant way to kickstart your bucks party on the jet skis and continue the day with any of the other ideas afterwards!
For something a bit more chilled out and lower impact, you might consider a game of lawn bowls. Hit the green and enjoy competing over who can get the closest to the jack, with a nearby bar and areas to sit so you can all enjoy the sun and each other's company. There are party packages offering a 2-hour game alongside transportation to and from your next destination, so whatever else you get up to, you won't have to worry about the logistics with this one.
The Gold Coast is one of the best places in Australia to celebrate your bucks party, so whatever you choose to get up to is sure to be remembered for a long time after the wedding.