Ever wonder why we're the highest rated Watersports company on the Gold Coast? Have a read!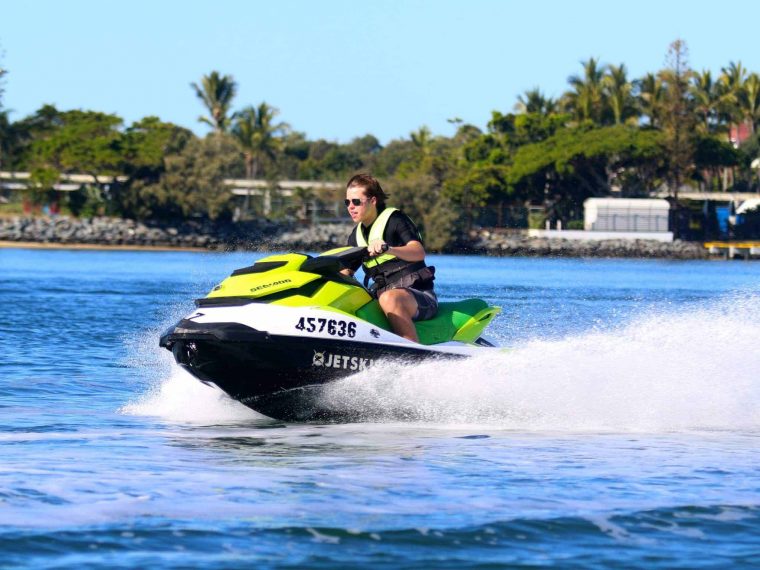 1. We are the ONLY jet ski company to depart from outside the Surfers Paradise slow zones!
Jet Ski Safaris is the only company on the Gold Coast that doesn't go through 6 knot speed restricted zones! Get into the full throttle action quicker and longer than any other company out there! 
2. We have the largest fleet of skis in the Southern Hemisphere!
Jet Ski Safaris has the largest fleet of rental jet skis in the Southern Hemisphere with up to a massive 35 customer jet skis available for hire plus MORE on the way! This means we can have up to 70 people at once on our award winning safaris and up to 200 people across different watersport activities!
3. We offer FREE Parking!
Based here at Mariners Cove Marina in Main Beach on the bright and sunny Gold Coast, our location has free all day parking! You can enjoy a full day of amazing activities like Parasailing, Jet Boating, Boat Hire, Helicopters and so much more! And for an even better addition to your day – you can even visit one of the amazing dining spots located next door in Marina Mirage! Enjoy some amazing cuisines at places like La Luna, Glass Dining and Sunset Bar and Grill while watching the mega yachts one can only DREAM to own, all without having to pay those parking fees! BONUS!
4. We offer a FREE HOPO Ferry river run with any Jet Ski Safari!
Arrive in style to our home base while seeing all the beautiful sights of the Gold Coast Waterway on an optional scenic river cruise ferry with HOPO Gold Coast.  Departing from Surfers Paradise cruising through to Marina Mirage, give us a call to book in your FREE HOPO day pass for the date of your safari! *Ts and Cs apply. 
5. We run with the Highest Quality, Custom Made, Commercial Grade Safety Equipment!
Feel 100% safe and secure in our custom made life jackets by Ultra PFD to make you feel stylish and comfortable on your safari! Our jet skis are also maintained to the highest quality by our in-house mechanics with regular services so you can participate in our jet ski hire without a worry! 
6. Jet Ski Safaris is the most experienced operator on the Gold Coast!
Did you know that we've been in the jet ski game for over 20 years?! First opening on the Gold Coast in 2000, Jet Ski Safaris is the most experienced operator on the Gold Coast. We've grown from a small 5 ski company to now having a massive 45 skis on The Gold Coast, 12 skis on The Hawkesbury in NSW and a third great location opening soon (also outside of those silly slow zones)! We also have the most experienced staff on the waterway to make sure your safari is not only EPIC but extremely safe!
7. You don't need ANY experience or ANY licenses!
Here at Jet Ski Safaris, you don't need any experience or any licenses to come with us! That's right! That's what our guides are for! Come and play the biggest game of Follow the Leader you've ever played! Go as fast as a jet or cruise like a turtle, it's up to you! We've got plenty of guides to cater for whatever speed or experience level! With our comprehensive safety briefing, we cover everything you need to know to get you out there and ready to drive the jet ski!
8. We are the only company to offer breakfast and lunch stopovers on South Stradbroke Island!
Speak to our staff about our awesome island stop safaris which give you added time at the island for breakfast and lunch at no extra cost! Running every weekend during off-peak season and EVERY DAY during on-peak season, come and see what we are famous for and enjoy extra time at South Stradbroke Island! Choose to have a bite to eat, a swim at the beach, or a sunbathe on the sand lapping up the famous Queensland sun while enjoying the secluded island which is only accessible by boat or jet ski! 
9. Our tours cover greater distances than any other operator!
Want to experience parts of the Gold Coast you have never seen before? Speed past the mega-mansions of Sovereign Island, Weave and wind through the winding mangroves, Journey up to Jumpinpin at the tip of North and South Stradbroke and everything in between! Majority of these awesome places are only accessible by boat or jet ski so come and rip and tear it up on the waterway with our excellent tour guides who will take you to places they'd take their mates!
10. We've got the Trip Advisor Certificate of Excellence 9 years running!
If that title doesn't speak for itself then we don't know what does! We're the most experienced, longest running, largest operation, best Watersports activity on the Gold Coast, and if you're not already convinced to come give us a go, then you never will!! We pride ourselves on what we do and we love showing people why! Come check us out one day soon! You won't regret it!