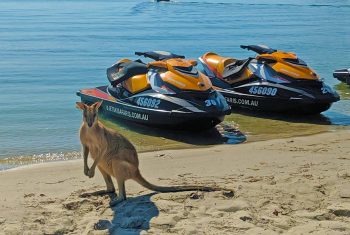 There's something undeniably exhilarating about the feeling of cutting through the waves on a powerful jet ski. The sun glistening on the water, the cool sea spray on your face, the sense of freedom and adventure – it's something every Gold Coast resident or holidaymaker should experience! But what should you know before hopping on that jet ski? Let's take a journey to learn about Jet Ski Hire on the Gold Coast.
First-timers' Guide: What to Expect from Your Jet Ski Hire?
Professional Guidance: If it's your first time, don't fret. Guided tours and safety briefings ensure you'll be equipped with the knowledge and confidence to ride with ease.
Versatility: You don't need a license to ride a jet ski! It's a fantastic activity for everyone in the family to enjoy.
Unforgettable Experience: Imagine weaving through mangrove passages and secluded islands, or spotting a pod of dolphins swimming by your side. It's more than just a ride; it's an adventure.
Tips and Tricks: Maximising Fun on your Gold Coast Jet Ski Adventure
Navigating the Gold Coast waterways on a jet ski offers a unique perspective of the stunning coastline. Here's how to make the most out of your adventure:
Stay Hydrated: Sea air can be dehydrating, so ensure you drink plenty of water before and after your ride.
Sun Protection: The Gold Coast sun can be unforgiving. Make sure you lather up with a water-resistant, high-SPF sunscreen.
Listen to Your Guide: They're there to ensure your safety and enjoyment. Take their advice to heart and you're bound to have a fantastic time!
Safety First: Ensuring a Secure Ride with Jet Ski Hire Services
The thrill of jet skiing should never come at the expense of safety. Here's how your Jet Ski Hire service can help keep your experience secure.
Safety Equipment: All riders should be provided with life jackets and safety gear. It's a non-negotiable part of the adventure.
Professional Supervision: Every ride is overseen by experienced guides who prioritise your safety above all else.
Pre-Ride Briefings: These informative sessions make sure that riders of all experience levels understand how to operate their jet ski safely.
Understanding Jet Ski Tours: An Unforgettable Seaside Experience
Jet ski tours aren't just about speed; they're about exploring the picturesque beauty of the Gold Coast:
Scenic Routes: Tours are carefully planned to take you through awe-inspiring waterways, offering panoramic views of the coastline.
Guided Exploration: You're not just left to fend for yourself. Guides will lead you on a thrilling adventure, pointing out local wildlife and sights along the way.
Unique Experiences: The tours offer unique experiences like island stops and chances to see local marine life up close.
Dive into Adventure: Is a Jet Ski Tour the Perfect Choice for You?
If you love the idea of an adrenaline rush mixed with scenic beauty, a jet ski tour could be just what you're looking for. It's a perfect choice for adventure seekers, nature enthusiasts, or those looking to try something new.
Budgeting Your Thrills: Understanding Costs Involved in Jet Ski Hire
While hiring a Jet Ski is a premium experience, the joy and memories it brings are truly priceless. Costs are inclusive of safety gear, briefings and guided tours. The longer the tour, the more value you get for your investment.
As Jet Ski Safaris, we've witnessed how a simple Jet Ski Hire on the Gold Coast can transform a holiday into a tale of adventure. If you're a thrill-seeker at heart or just someone looking to break away from the usual, don't hesitate to get in touch. Book your Gold Coast adventure, or call today on 0409 754 538 or 07 55 263 111. Your journey to a world of excitement and exploration is just a click away!