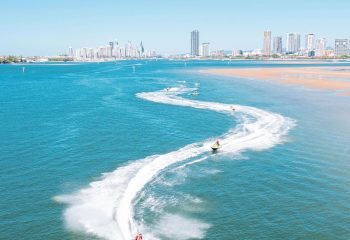 Jumping on a jet ski and feeling the surge of adrenaline as you carve through the sparkling waters of the Gold Coast is truly an unforgettable experience. But to maximise the fun and safety, a bit of preparation goes a long way.
In this blog, we'll go through some essential steps to take before your next jet ski adventure. Keep reading or book a tour today!
Gather Your Riding Buddies
Whether you're a seasoned rider or a jet ski newbie, there's nothing quite like sharing this adventure with mates. When choosing your riding buddies, select friends or family who share your love for adventure. Ensure everyone in the group is comfortable with the basic rules and safety guidelines of jet ski riding or is open to learning.
Riding with buddies is also a lot safer too. Just think, if your jet ski breaks down or you get injured, your buddies can tow you back to shore.
Weather plays a vital role in your jet ski adventure. Before you plan your jet ski tour, monitor local weather forecasts closely and keep an eye out for rapidly changing weather conditions. While it's fine to ride in the rain, if it's a torrential downpour or storm, riding isn't safe. Remember, your safety should always be the top priority.
You don't need to own a jet ski to plan a jet ski tour! In fact, jet ski hire is a super convenient and hassle-free option for both locals and visitors alike. Just make sure you plan ahead and book in advance with your jet ski hire, especially during peak season, to ensure there's availability for you preferred dates. Always confirm your reservation before your scheduled tour.
Proper attire makes a huge difference to your jet skiing experience. Wear comfortable, quick-dry clothing with swimmers underneath as you're bound to get wet! Don't forget sunscreen, sunglasses, and a hat to protect from the harsh Aussie sun. Make sure you pack any essential belongings such as your identification, wallet and phone (placed in a waterproof bag of course), as well as a bottle of water and snacks for the journey.
Plan Your Gold Coast Adventure with Jet Ski Safaris
So, you've gathered your mates, checked the forecast, booked your ride and packed the essentials. Now what? It's time to put all your plans into action and embark on a thrilling adventure! Whether you're a local looking for a new perspective or a visitor eager to experience the Gold Coast's beauty, our Jet Ski Tours are not to be missed.
Ready to make waves? Plan your next adventure with Jet Ski Safaris today and let the waters of the Gold Coast become your playground!