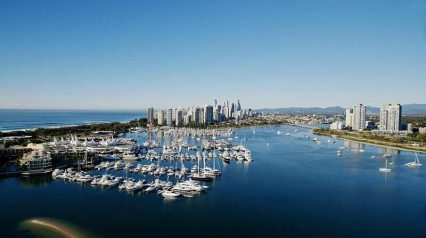 Ahhh Main Beach. A beautiful little pocket of paradise between the hustle and bustle of Surfers Paradise and the corporate offices of Southport.
While the town only has about 4,000 residents, there is an abundance of things to do. Let us walk you through some of our favourites!
1. Get the heart pumping at Jet Ski Safaris
Well we couldn't write this without recommending the number 1 best thing to do on the Gold Coast! Feel the wind flow through your hair and the adrenaline pump through your veins on one of our famous Jet Ski Safaris! With no license or experience necessary, it's the perfect thing to do for beginners right through to the adrenaline junkies! Running 7 days a week, multiple times a day at Mariners Cove Marina, click here to book your next on water adventure!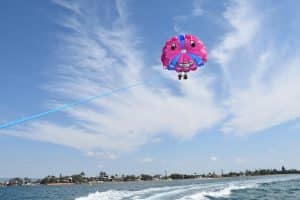 2. Soar like a bird with GC Jet Boat and Parasail
Swap the water for the air, under the iconic pink parachutes. Soaring 300ft above the beautiful Broadwater, see the Gold Coast in a different way with this awesome activity. Located only 100m away from Jet Ski Safaris at Marina Mirage, you'll be strapped in with the latest safety equipment then winched up high above the purpose built Parasailing boats with their Iconic Pink smiley parachute for around 8 minutes of fly time. This is an experience that cannot be matched and will leave you with memories lasting forever. You can book your tickets here.
3. Have some theme park fun at SeaWorld GC
Located just 1km down The Spit lies the iconic SeaWorld Gold Coast. If you're after rollercoasters, dolphins, stunt shows, seals and many more cool creatures, this is the place for you! Suitable for all ages and open every day, bring the whole family down for some theme park fun. You can book your tickets here.
4. Have a boogie on The Yot
You can't come to Main Beach without experiencing the mega-phenomenon that is The Yot Club. Dance along to your favourite DJ while sipping on delicious drinks on the worlds first Super Yacht entertainment venue. At 23 metres wide x 40 metres long and licensed for up to 400 guests over two luxurious levels, there's no doubt you'll have an epic time aboard the floating club.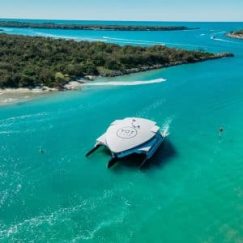 5. Enjoy a delicious seafood lunch at Pete's Fish Market
You can't have a full day of heart stopping fun without stopping for lunch! Open every day from 9am, Pete's Fish Market is our No 1. choice for a scrumptious feed. Located on the waterfront of right next to the Fisherman's Co-Op, their Seafood is the freshest on the Gold Coast as it comes right off the trawlers every morning and is definitely a staff favourite! We can't rate Pete's high enough for a good feed and vote it as a must visit.
6. Enjoy a relaxing stay at The Sheraton Grand Mirage
If you're after accommodation ideas, The Sheraton is the place to stay. Newly renovated with it's own private beach access and swim up pool, this hotel is the definition of luxury and perfect for a night away or a weekend visit. It's walking distance from all places mentioned above so you can stay within your own little holiday bubble if that's the type of holiday you like!
Have we convinced you yet? If you've never been to Main Beach here's only 6 reasons why you need to visit! For even more, head over to KAYAK for their guide to Main Beach and get more ideas on what to do on the Gold Coast.