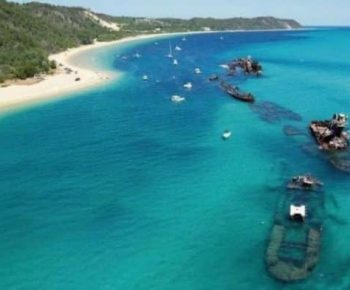 It's baaaaaack! For the first time in over 7 years Jet Ski Safaris is running our famous Tangalooma Day Tour. Not for the feint-hearted, this epic full day adventure is perfect for those experienced jet skiers who wish to see more of our epic waterway.
Starting from our Jet Ski Safaris Base with a bright and early start, enjoy a complimentary BBQ brekkie cooked by our very own, while you're getting briefed for the day. Then, we will head out on the skis, heading north up the Broadwater for miles en route to the picturesque Moreton Island.
Before we glide into Moreton Island, we will stop at North Stradbroke for a tasty lunch (also included) and a quick refuel of the skis before continuing on to the main attraction. We'll park up on the stunning white sand, jump off the skis and enjoy some time lounging in the sun, snorkelling in the clear blue water and enjoying a tasty lunch (dependent on COVID-19 restrictions, of course). Is this all? You may ask. But no, no it definitely is not. The Tangalooma shipwrecks are next on the agenda, where we will glide around them on the skis while keeping an eye out for the resident dolphins, dugongs and turtles.

After a full day of adventuring we will head back to base and we promise you that you'll sleep well that night!
This trip is offered for $800 per ski (which can be twin shared), for the full day adventure including the BBQ brekkie. Bring your snorkels, towels and a couple of snacks and be prepared for a trip you will never forget! Call the office now for more information and to book! 0409 754 538.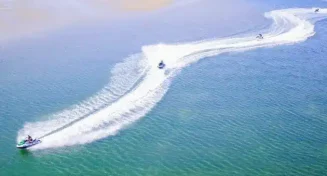 *Extremely LIMITED spots available.
*If you want to join and have your own ski, call our office for more details!