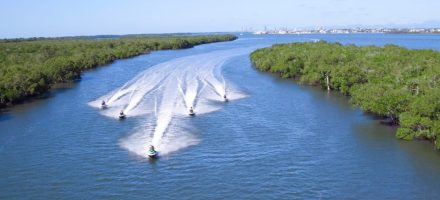 Happy Monday thrill seekers! The team at Jet Ski Safaris have had an awesome weekend since the borders opened and we think it's time we introduce you (or let you 'e-meet') our backyard. We love our job and we'd love to tell you why:
Starting at our home base at Mariner's Cove Marina, we cruise out past the iconic Fisherman's Wharf Tavern, past the mega-yachts and out into the Broadwater, where you have the magical Surfers Paradise skyline to your left and the open water to your right. Our specially trained guides will give you a quick test ride before cruising past SeaWorld, and across the Seaway. Now, this is where the adventure really begins.
The guides will tear it up along the shores South Stradbroke, or 'South Straddie' as we like to call it, with Sovereign Island to your left, home to all the mega-mansions owned by all the rich and famous. Only accessible by watercraft, South Straddie is full of bushland, coastal dunes, forests and wildlife, and the further north you head, the better chance you have of seeing our local dolphins and even the elusive dugongs.
We will weave and wind through the mangroves and sneak past the oyster farms checking out the shoreline and even heading far enough north to Jumpinpin at the south tip of North Stradbroke (and if you're lucky you might hear the story about how the islands were separated).

This is where we loop around and head back to one of the beachside cafes or restaurants that dot the shoreline where you can have a snack and a drink while relaxing in the sun, before jumping on the ski and heading back to base. You may even get the chance to feed the local wallabies who love to eat out of the palm of your hand! From here you'll jump on the ski and weave and wind your way back to base with the Surfers Paradise skyline in sight the entire way home.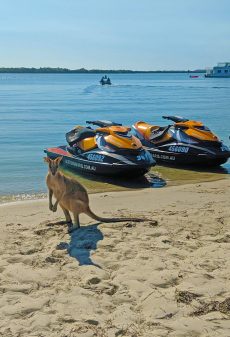 We could go on and on about how beautiful the Gold Coast Waterway is but how about you come and see for yourself? Whether you're a local or on holidays, we can guarantee we'll show you a side to the Gold Coast you've never seen. Come down and see our backyard today.
*While our guides endeavour to seek out the wildlife, please remember that they are wild and we cannot guarantee or promise that you will see dolphins, dugongs or wallabies, however our guides like to say the chances to see any one of them are 1 in 3 trips.
*This explanation of our trip is based off our longest 2.5hr safari. The longer the safari you choose, the more of the Gold Coast you are likely to see. Call us and ask us about our safari options today!