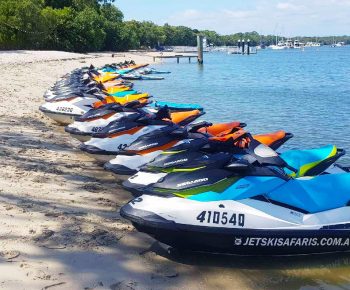 Even though the Ekka isn't taking place this year, the government has been kind enough to grant us a long weekend in its place starting Friday 14th August. Which means one extra day to enjoy the weekend and an extra day to jam-pack full of fun!
And while you can spend a day at the theme parks or a day walking through Surfers Paradise, we recommend coming down to see us at the Jet Ski Safaris base to experience one of our high thrill, maximum adventure safaris operating all weekend!
While the weather is looking good for the entire weekend, Sunday is looking absolutely PLUM, so what a way to finish off your long weekend and leave you craving for the next one than with a Jet Ski Safari, offered by the longest-serving and largest fleet in Australia!
Rip and tear through the Gold Coast Waterways this long weekend on one of our brand new Seadoo GTI 130s, cruising the coastline and hugging the shores of South Stradbroke while keeping an eye out for the resident dolphins and the wallabies hopping onshore. You could even make a day out of it and parasail high above the Gold Coast at an eye-watering 300ft and/or jump in the jetboat for another high speed adventure. Package options are available.
So, you may be reading this from the confined space of your office cubicle, or even a classroom, and if that's the case then think of this as a sign! If you've never experienced one of our famous Jet Ski Safaris or even if you have, come down and see us this show holiday long weekend and find out why we're the place all the celebrities choose for fun!
Call 0409 754 538 to book and find out more or book online for a sneaky 35% off using the code "SERIOUSFUN"
We'll see YOU this weekend.