Ahoy there! Are you up for the challenge and thrills of a scavenger hunt on the Gold Coast? With our clues and ideas provided below, you can do this scavenger hunt at Easter with your family or at any time of year or day with any kind of group. We've put together a clue-filled hunt, and there's definitely treasure at the end of this rainbow finishing with a thrilling jet ski safari.
Depending on the group and occasion (children, adults, birthday, bucks party, ….) you can customise the clues and stops. Find below a number of clues that work very well for families with children or teenagers.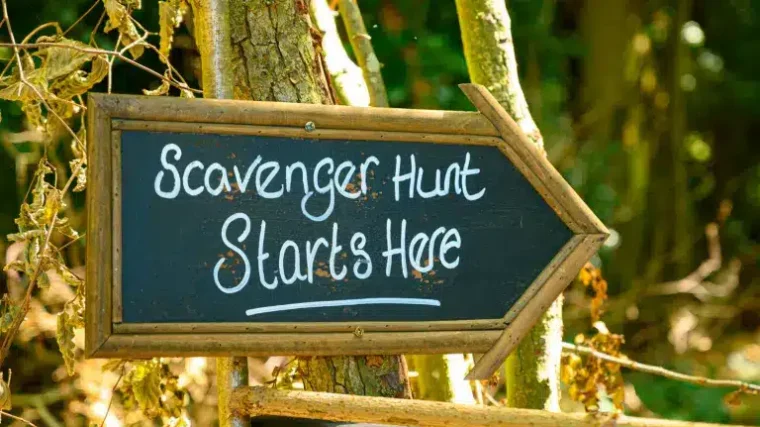 Gold Coast Scavenger Hunt Example
This scavenger hunt takes place between Labrador (First location Fox Park, Marine Parade Labrador) and finishes at Jet Ski Safaris Seaworld Drive 17/ 60-70 Seaworld Drive, Main Beach Qld 4217. Book in for a jetski safari for a truly thrilling end to your scavenger hunt, and make sure you arrive in your allocated time. This treasure hunt can take all day if you make frequent stops and walk between the attractions taking time to look around. There are plenty of things to see and do that aren't necessarily in the hunt that you can explore on the way.
Use a map app or print out a map to look up the general area once you've solved the first clue as it will be easier to guess each location. This treasure hunt is designed for travelling by car or bicycle with lots of stops. It also has lots of play areas, things to see and do and optional activities. Take a picnic and make a whole day of it or stop off and have lunch at the many locations you pass along the way.
Are you ready for the first clue?
Clue 1: What is Australia's favourite Pet?
Answer: Labrador, QLD
Clue 2: Where could you take a Labrador to look for a Fox?
Answer: Len Fox Park, Marine Parade Labrador
Clue 3: There's gold nearby but it only comes in arches.
Answer: McDonald's, 168 Marine Parade Southport QLD
Clue 4: When I count my GOLDEN NUGGETS it makes me feel HAPPY. How many do I have?
Answer: 6 nuggets in the happy meal.
Clue 5: If you drive for 6 minutes you can see the Big Cheese. It's sweeter than you think.
Answer: Have your players look out the window and time you as you drive. You're driving towards the Cheesecake Shop at 188 Scarborough Street Southport QLD. (Time is approximate depending on traffic).
Clue 6: Now you've found the Cheese, seek where the park meets the water. You'll need to head BROADLY in that direction.
Answer: Broadwater Parklands, Marine Parade Southport.
Clue 7: Some pillows are not made for sleeping. Can you find one that's extra-large? And very bouncy?
Answer: The Bouncy Pillow, Broadwater Parklands. (This may be a good excuse for a play and a jump around.)
Clue 8: Our Anzacs fought for us. And so we remember them. We built a whole park so we don't forget.
Answer: Anzac Memorial, Anzac Park Southport.
Clue 9: There are three ladies in the next clue. The first is the Queen. The second is the Sister and the third is more matronly. They all like to play croquet.
Answer: Matron & Sister Higman Park, 1 Queen Street Southport.
Clue 10: This bridge has a time-telling device in the name. Except whoever named it can't spell.
Answer: Sundale Bridge. Head over Sundale bridge and turn left onto Waterways Drive.
Clue 11: My sailor friend is the Bosun and he likes to keep things tidy by putting them away. He keeps them in his cabin. What does he store them in?
Answer: Bosun's Locker, 1 MacArthur Parade Main Beach Qld 4217
Clue 12: When is a boat like a plane but moves on skis?
Answer: When it's a Jetski
Go to Jetski Safaris Seaworld Drive 17/ 60-70 Seaworld Drive, Main Beach Qld 4217 and get ready for the FINAL clue.
Clue 13: We're taking the boat. But you don't need to go to Africa to go on a … what?
Move to the Jetski Safari desk to book in for your last exciting round. Enjoy a thrilling safari cruise to end the day!
If you like the idea of adding an absolute highlight to your scavenger hunt, check out our different jet ski tours and get in touch with our team today.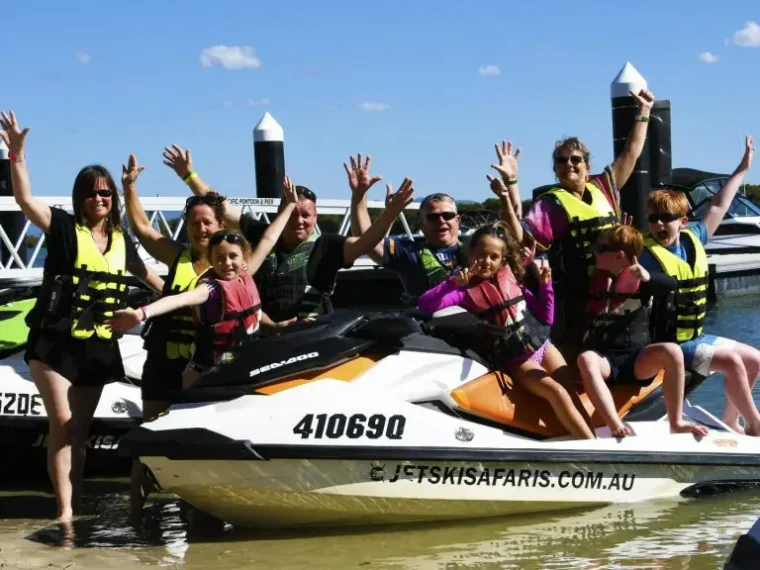 Other scavenger hunt locations & ideas on the Gold Coast
Find a number of other locations on the Gold Coast that are great for a scavenger hunt involving your own clues in nature, on the beach or in town.
Stations & tasks in Broadbeach, Surfers Paradise and Main Beach
Find the name of the largest sailing boat in Marina Mirage/Southport Yacht Club
Buy a pink item for under $5 at Pacific Fair Shopping Centre and take a selfie in front of the sign
Complete all 18 holes at Holey Moley in Surfers Paradise
Take a group picture in front of Lifeguard Tower Number 30
Collect shells in 3 different colours from the beach
Find some street art and take a picture
Staying in the area between Broadbeach and Main Beach also offers to start or end the scavenger hunt with a jetski safari as a reward. With an optional visit to South Stradbroke Island, and passing many other amazing locations during your safari, you'll truly give your team a day they'll never forget.
Broadwater Parklands, Marine Parade Southport
If you prefer to stay in one place and reach most of the locations on foot, The Broadwater Parklands are a great option. They have five kilometres of walkways from the Sundale Bridge to Loders Creek, with many exciting touches and potential clues along the way. You can include the Bouncy Pillow, The Rockpools water playground, swimming near the Washington Waters playground or the Gold Coast Aquatic Centre and finish at the Anzac Memorial (clues for the Bouncy Pillow and Anzac Memorial are provided above). There are three playgrounds throughout the park, making it ideal for active people, and for active adults, there's an outdoor cardio space as well as featuring a 5k hike.
For a true getaway for your scavenger hunt, consider a nature break on South Stradbroke Island. South Straddie is a quick trip from Brisbane and the Gold Coast but feels miles away. It has outstanding bushwalking, swimming and surfing, and plenty of opportunities for hiking, rock climbing and fishing off the beach. There are huge amounts of wildlife as the island features an 1800 hectare conservation park, a truly wild experience that can easily be turned into a scavenger hunt.