Watersports and water-based activities can be a thrill. But what if you're not a swimmer or you don't want to get wet? There's no need to miss out – there are activities you can do that don't involve being in the water. If you need inspiration, check out our guide to safe and fun activities for non-swimmers.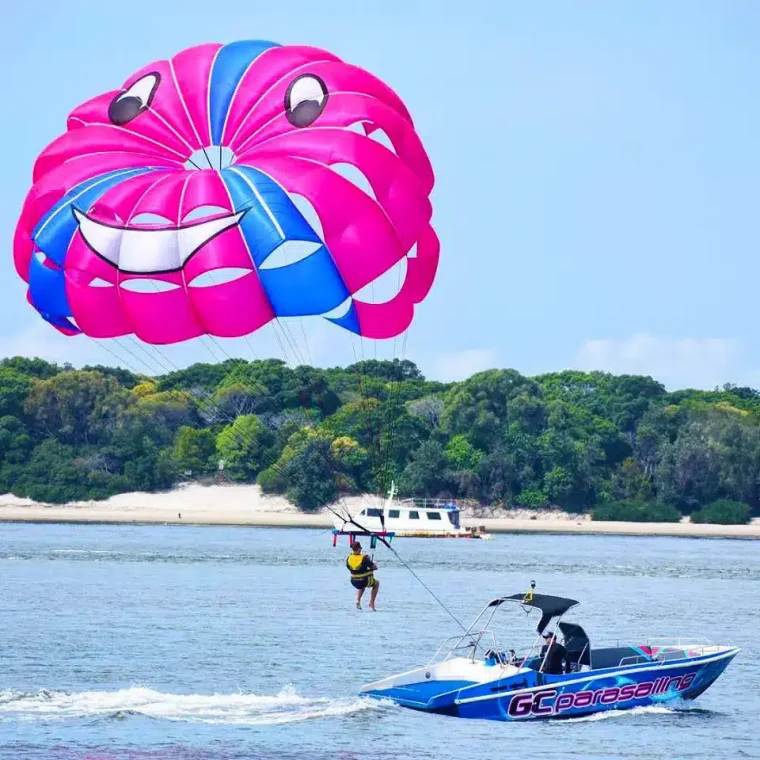 Parasailing is fantastic if you can't swim because you're not in the water at all. It involves soaring through the sky above the sea rather than getting into it. Sitting in a specially designed parachute, a boat tows you whilst you take in the magnificent views. If you're feeling anxious, you don't have to go alone – you can parasail in a pair or even a group of three.
Jet boating is fast, furious and full of thrills. All you need to do is settle in and enjoy the ride, where you'll reach speeds of up to 75 km/h. You'll experience spins, slides and excitement. Because the boat is so fast, there's a good chance you'll get splashed, but there's no need to worry about falling in. Experienced drivers ensure your safety throughout.
To enjoy boating in a more sedate way, sailing could be a great option. Sailing involves using a boat that relies on wind power. You might get involved with the operations of sailing or you might prefer to sit back and enjoy the experience. You'll also get unique photo opportunities and a fun way to explore the water without getting soaked.
Kayaking involves paddling through water in a specially designed boat. You sit quite low in a kayak, giving you a unique vantage point of the water. Being inside a boat, it's good for non-swimmers and is great for your fitness. Be aware that there's a possibility of the kayak capsizing and you getting wet, but if you follow instructions and you wear a swim west at all times, kayaking is still a safe sport for non-swimmers.
Fishing can be done on a boat or dry land. Anyone can participate, whether it's new to you or you've got lots of experience. Fishing can be relaxing and you can do it alone or participate with other people. You might even get the thrill of landing a big catch!
Rowing is another boating activity with little risk of falling in. You use oars connected to the boat to power through the water, and it can be as relaxed or intense as you like. Competitive rowing is a popular sport but if you want to simply meander through at a leisurely pace, this is a fun way to do it without swimming.
Paddleboarding involves standing on a board and paddling through water. If you're not confident, you can sit or kneel – you're tethered to the boat for safety. This activity does carry a risk of falling in but if you're worried, you can stay seated, making it less likely that you'll fall in.
For a thrilling water ride, why not try jet skiing? This sees you propelled across the surface of the water on a motorised vehicle, and you're tethered to the jet ski throughout. You don't have to be a swimmer to participate, but the high speeds mean there's a good chance you'll get splashed with water – something you probably wouldn't mind on a hot summer's day on the Gold Coast.
If you're not a fan of swimming or getting wet, there's no need to miss out on the fun of the water. If you're ready to plan some exciting water activities on the Gold Coast, get in contact with us today. We can recommend the ideal options for your particular requirements.