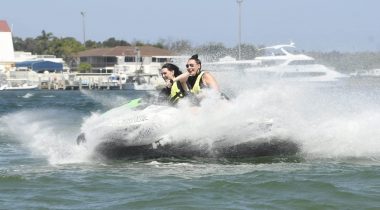 Jet skiing on the Gold Coast is an unparalleled experience! But it's not all about fun and games; as a jet skier, you must also be mindful of local etiquette. Be courteous to other residents by abiding by speed limits both nationally designated and those in operation off-shore—consider your wake size when passing boaters or swimmers, for example.
Also, remember that noise should be kept at a minimum (especially before 7am), so start the engines only once you're already out in full water depth and warm them up there if needed. Visit the Maritime Safety Queensland website today for tips on safe navigation while enjoying water sports activities!
How to Respect the Environment & Other People While Jet Skiing
Respecting the environment and other waterway users is an important aspect of responsible jet ski operation. Here are a few ways to do so:
Follow all local laws and regulations related to jet ski use, including speed limits & designated areas for operation
Avoid disturbing wildlife or damaging natural habitats while operating a jet ski
Be mindful of other waterway users, such as swimmers, boaters & fishermen & give them plenty of space
Use common courtesy & good judgement when operating a jet ski in shared waterways
Avoid making loud noises or creating large wakes that could disturb or endanger other waterway users
Properly dispose of trash & follow guidelines for waste management to prevent pollution in the waterway
Respect private property & do not operate a jet ski in areas where it is not allowed
By following these guidelines, jet ski operators can help protect the environment and ensure the safety and enjoyment of all waterway users.