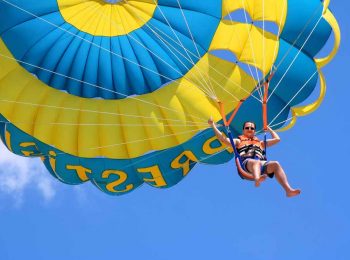 Parasailing is an exhilarating activity that offers a unique blend of thrill and serenity. As you're hoisted high above the water, tethered to a boat, you experience a sense of freedom and adventure like no other. However, like any outdoor adventure sport, parasailing requires a keen understanding of safety measures to ensure a fun and safe experience. This article, using information from the reputable Jet Ski Safaris, provides essential safety tips for those planning to embark on this exciting journey.
How To Prepare For Parasailing
Before you embark on your parasailing adventure, it's crucial to prepare adequately. This includes understanding the activity, knowing what to expect and ensuring you're physically and mentally ready.
Weather Conditions: Weather plays a significant role in parasailing. It's important to check the forecast before your trip and avoid parasailing in adverse weather conditions. High winds and storms can make parasailing dangerous, so it's best to reschedule if the weather is not favourable.
Find a Reputable Parasailing Operator: When choosing a parasailing operator, ensure they have a solid reputation for safety and professionalism. They should provide comprehensive safety briefings and use well-maintained equipment. Remember, your safety is paramount, so don't compromise on the quality of the operator.
Parasailing is a thrilling activity, but it also comes with risks. Therefore, understanding safety measures is crucial.
Weight Limits: Parasailing operators have weight limits for participants to ensure safety. These limits are in place to maintain balance and prevent accidents. Always adhere to these limits and ensure you're within the acceptable weight range before participating.
Equipment Safety: The equipment used in parasailing, including the harness, towline and parachute, should be in excellent condition. Regular inspections and maintenance are crucial to ensure the equipment is safe for use. Never go parasailing if the equipment appears worn out or poorly maintained.
Emergency Procedures: Understanding emergency procedures is vital when parasailing. In case of an unexpected event, such as a sudden change in weather or equipment failure, knowing what to do can make a significant difference. Ensure your operator provides a thorough briefing on emergency procedures before you go parasailing.
Want To Take To The Gold Coast Skies? Contact Jet Ski Safaris
If you're ready to experience the thrill of parasailing, contact Jet Ski Safaris. Soar through the sky like a bird and take in the magnificent views of the Gold Coast coastline and Hinterland from up to 300 feet above the stunning Broadwater. With no licence required and no experience necessary, we've been voted one of the top things to do on the Gold Coast!