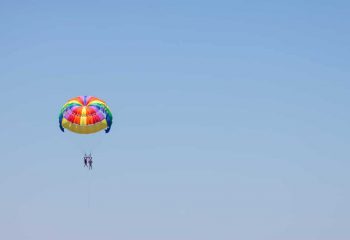 Parasailing is a thrilling water sport where you can soar high above the shimmering waters and get a panoramic view of the Gold Coast landscape. But like other adventure activities, you might be wondering how safe it is. In this blog, we will explore the many aspects of parasailing safety. We'll shed light on the important role played by professional guides, the safety equipment used and the rigorous protocols followed to ensure a safe experience.
Parasailing is an adrenaline-pumping water sport where you're harnessed to a parachute-like sail towed behind a boat. As the boat speeds up, you're lifted into the air, soaring high above the water. It's a unique way to experience the beauty of the coastline, offering unparalleled views and a sense of freedom like no other.
Safety Measures for Parasailing on the Gold Coast
When it comes to parasailing on the Gold Coast, safety is of utmost important. To help you enjoy a safe and memorable parasailing experience, professional tour guides will do everything they can to keep you safe. They use high-quality equipment and the latest safety gear to keep you safe. Additionally, before taking off, you'll be briefed on safety protocols so you know what to expect and how to act in different situations.
How Weather Conditions Factor into the Safety of Parasailing
It is important to understand the impact of weather conditions on parasailing to stay safe. Regular weather assessments are an important part of the safety protocols. Before each flight, professional tour guides do proper safety checks to ensure a secure parasailing experience.
Moreover, clear skies are not just preferred for the stunning views they offer; they also contribute to safety by providing better visibility for both the guides and the participants. These weather-related precautions are vital in maintaining the highest safety standards for parasailing.
Role of Professional Guides in Ensuring Safety
Professional guides can help ensure you have a safe and enjoyable parasailing experience. These professionals are rigorously trained in all aspects of safety, from meticulous equipment checks to precise weather assessments. Before you start your adventure, they will evaluate the weather conditions to ensure your safety.
Once you're geared up, guides take you through the entire parasailing process. They will provide you with a comprehensive safety briefing and oversee your take-off and landing. Their expertise and attention to detail serve as a safety net, making sure your parasailing adventure meets the highest safety standards.
Parasailing Safety Gear: What to Expect
Here is some basic gear you should wear when parasailing to keep yourself safe and secure:
Harness: A harness keeps you attached to the parasail.
Helmet: Provides head protection during take-off and landing.
Life Jacket: Ensures buoyancy in the water in case of an emergency landing.
Tips for First Timers: How to Have a Safe Parasailing Experience
If you are new to parasailing, here are some safety tips to help you out:
Listen to Briefings: Pay close attention to all the safety briefings and instructions given by your professional tour guide.
Ask Questions: Don't hesitate to ask your guide any questions you may have about your safety before starting your parasailing adventure.
Experience the Thrill of Parasailing with Gold Coast Jet Ski Safaris
Ready to experience the thrill of parasailing on the Gold Coast? At Gold Coast Jet Ski Safaris, we prioritise your safety while ensuring an unforgettable adventure. Our professional guides and state-of-the-art equipment make us a trusted choice for parasailing experiences. We look forward to soaring the skies with you! Get in touch with us via our contact page. You can also call us for more information or to book your next parasailing adventure.