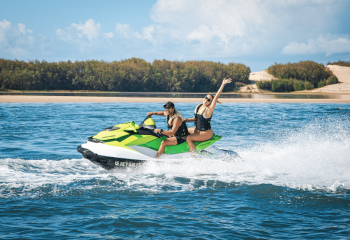 Picture this: The sun is shining, the water is glistening and you're standing at the edge, eager to hop on a jet ski for the very first time. The thrill of zipping across the water and the freedom of the open sea beckon. But wait! Before you rev up that engine, it's essential to know what to expect. After all, being prepared ensures not just a fun ride but a safe one too.
Understanding the Basics of Jet Skiing
Jet skiing is more than just a thrilling water sport; it's an experience that connects you with nature. As you navigate the waters, you might even encounter local dolphins, turtles and wallabies. But before you set out:
The Broadwater and Beyond
The Broadwater is a jet ski paradise, with its vast expanse offering ample space for riders. It's not just about speed; it's about exploring the beauty that lies in every nook and cranny.
No Licence, No Problem!
One of the best things? You don't need a licence or prior experience. The jet skis are designed for everyone, ensuring even beginners can enjoy the ride.
Safety First
While jet skiing is fun, safety is essential. Jet skis are maintained and serviced regularly, ensuring a smooth and safe ride.
What Should You Expect on Your First Jet Ski Ride?
Navigating the waters on a jet ski is an exhilarating experience, especially for first-timers. The rush of adrenaline, the splash of water and the thrill of speed combine to create an unforgettable adventure. As the engine roars beneath you, the vast expanse of the Broadwater unfolds, offering a mix of calm waters and challenging turns. And if you're lucky, a stop at a tropical island resort on South Stradbroke Island might be on the cards. Here, you can take a break, enjoy a splash, grab a bite and sip on a cold beverage before continuing your adventure.
Steps to Safely Navigate the Broadwater and Beyond
Before you set out, remember:
Safety Gear: Always wear the provided life jacket.
Stay Alert: Keep an eye out for other watercraft and marine life.
Follow the Guide: Especially if you're on a tour, your guide knows the best and safest routes.
Respect Speed Limits: While there are areas with no slow zones, it's essential to maintain a safe speed.
Tips for First-Time Jet Ski Riders
Whether you're a complete novice or someone with a bit of experience looking to refine your skills, it's essential to approach jet skiing with both enthusiasm and caution:
Know Your Jet Ski: Familiarise yourself with the controls and how the jet ski responds.
Dress Appropriately: Opt for swimwear or quick-drying clothes. Avoid loose clothing that can get caught in the jet ski's machinery.
Stay Hydrated: Jet skiing can be physically demanding, especially under the sun. Ensure you're well-hydrated before and after your ride.
Keep a Safe Distance: Always maintain a safe distance from other watercraft.
Listen to the Briefing: Pay attention to the safety briefing and any instructions given.
Enjoy the Ride: Remember, it's all about having fun. So, take in the sights, enjoy the thrill and make the most of your adventure.
If you're looking to experience the thrill of jet skiing, there's no better place than the Gold Coast's pristine waters. With the promise of adventure, breathtaking views and a chance to connect with nature, it's an experience you won't forget. So, if you're ready to embark on a water adventure like no other, don't hesitate. Reach out to Gold Coast Jet Ski Safaris for jet ski hire on the Gold Coast.