There's no doubt that the Gold Coast has some stunning scenery to offer. There's plenty to see: from its long sandy beaches to the intricate inland canals. Whether you live in the Gold Coast or are just visiting, you'll want to make the most of this unique landscape. If you want to experience some truly unforgettable sightseeing of this coastal region, why not try viewing it from the sky?
Fortunately, on the Gold Coast, there are plenty of options for getting up in the air and taking in the amazing sights. With so many choices, there's something for everyone to take to the skies and really make the most of what the Gold Coast has to offer. In this blog, we explore some of the best ways to discover the Gold Coast from the sky. Read on to find some exciting ideas for your next sightseeing experience.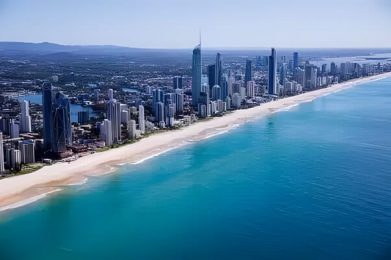 SkyPoint Observation Deck
If you want to see the Gold Coast from the sky without needing to fly, the SkyPoint Observation Deck is a great way to take it all in. Located at the top of the iconic Q1 building in Surfers Paradise, you can observe panoramic views from 270m above sea level. The observation deck's unique vantage point also means you can view the entire city skyline from one spot. For adventure lovers, you can take on SkyPoint Climb, the highest external climb in Australia. If you'd rather relax with the view, SkyPoint also boasts the Gold Coast's highest bistro and bar!
If you want to see the Gold Coast as you've never seen it before, a helicopter tour is a fantastic way to explore. A helicopter tour lets you enjoy panoramic views of the scenery, and you can take some great photos and videos to show your friends and family. Whether you'd prefer a brief five-minute flight to quickly show you the sights, a longer journey, or the opportunity to combine your helicopter tour with a visit to a local winery or a picnic for an unforgettable day out, on the Gold Coast you can find a range of helicopter tours to suit you.
Another option is to take a scenic plane flight, with tours available departing from Gold Coast Airport. You can choose from a range of different flight paths to make sure you see the sights that you really want to, including golden beaches, intricate waterways and the expansive hinterland. Varying flight durations are available and you can sometimes even combine your flight with another exciting experience like a skydive – another excellent way to view the Gold Coast from a brand new perspective. Whether you're a thrill-seeker or want a more relaxing experience, a plane flight is a fantastic way to discover the region.
If you've got a taste for adventure, parasailingwith Jet Ski Safaris is a totally unique way to view the local coastline and the hinterland. We can accommodate groups of various sizes for parasailing – whether you're flying solo or want to share the experience with one or two others, we can provide a thrilling sightseeing experience from the sky. Even if parasailing is totally new to you, our friendly and experienced crew will make sure that you're safe and comfortable and enjoy all the highs of soaring above the Gold Coast.