It has been proven time and time again that for a business to succeed, there needs to be a tight-knit team of employees behind it. When staff trust each other and work well together, output and efficiency increase, leading to higher profits all round. However, the importance runs deeper than that. It's common sense that if your employees are happy and healthy in their work environment, their enthusiasm for the job and trust in those around them is renewed, which translates to better results.
You may be sat back thinking right now about your employees, and how you can get these benefits in your business. Well, the answer is simple! Take them out for a day of team bonding on Australia's Gold Coast with Jet Ski Safaris. Nothing says relaxation and de-stressing quite like a day out, and you'll be the fun boss who made it all happen! So, what activities are available on the Gold Coast?
Ideal for smaller groups, our parasailing activities are available up and down the Gold Coast. Parasailing can foster real improvement in the confidence and trust levels that your employees have for one another. Suitable for smaller groups, we offer tandem parasailing, triple parasailing, as well as solo parasailing adventures, so small groups of employees can bond over this nerve-wracking experience together.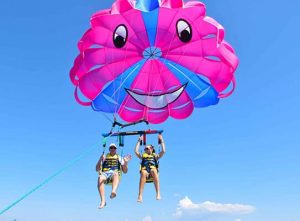 If one of your employees is scared of heights, make sure to partner them up with someone who's more at ease and will be able to help them enjoy the experience. Being able to keep someone calm is essential whether you're in the office or hanging from a parachute, so parasailing is bound to boost the communication and teamwork skills of all your employees.
For larger groups, however, the following activities may be more suitable:
There's no better way to explore the Aussie Gold Coast, including Coolangatta, the Hinterland and North Stradbroke, than by jet boat! By taking your employees out on a jet boating experience, you are allowing them the opportunity to get to know each other better whilst they enjoy high speeds, stunning scenery, and the sun. Think of it like a rollercoaster but on water!
For our company's namesake, we're a little bit biased when we tell you this is the ultimate activity to take your employees on for team-building purposes! It's a fast-paced experience that will push each member out of their comfort zone. By taking part in an activity like this, your team will be laughing, communicating, and bonding together all day long. Why not explore the hidden islands of Surfers Paradise and Queensland together?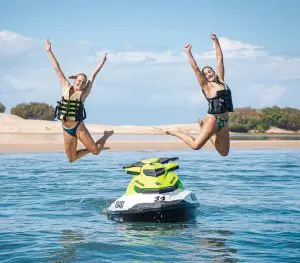 For practical business purposes, we offer a range of package deals to help inspire you with confidence that this is the perfect team bonding day. For example, we offer a Jetboat, Parasailing, and a 30-minute Jet Ski Safari experience for two adults for $359. For more information on our jet boat, jet ski and parasailing team bonding experience packages, give our friendly team a call on 07 5526 3111 or 0409 754 538. You can send us an email bookings@jetskisafaris.com.au to have any of your questions answered by our friendly team.