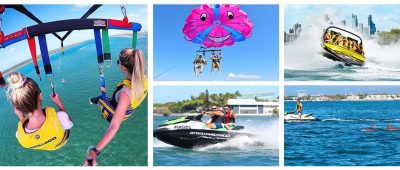 Looking for your next activity to experience on the Gold Coast? Look no further! We have compiled a list of the top water activities to try when visiting the Gold Coast to make sure you have a memorable and enjoyable stay for yourself and the whole family.
Cruise on your jet ski along Main Beach waters, and discover the hidden islands of Surfers Paradise with Jet Ski Safaris' excursion! No licence is required with us, as you are free to explore the clear blue waters in style. Even better, our best-selling package deal means you can combine your jet-ski experience with parasailing views!
Parasailing is a magnificent activity to fully enjoy the vast and wonderful views that the Gold Coast has to offer. Be bold and parasail alone, or do it in tandem or triple style with friends at Jet Ski Safaris. Combine this with our jet-skiing and a tropical trip with one of our wildlife cafe package deals for an all-around experience on sea and land.
Jet boating is an exhilarating experience that allows you to witness the sheer brilliance of the Gold Coast waters around Main Beach. With high-speed drifting on the best jet boat, Jet Ski Safaris is happy to give you a memory you will never forget. Do you want to parasail and jet-ski too? Our Ultimate Adrenaline package deal allows you to experience all three at an amazing price!
Snorkelling and scuba diving
The Gold Coast is unparalleled when it comes to fish diversity and inshore diving opportunities. Swim with pink whip rays and white-spotted guitarfish in the Gold Coast Seaway, or uncover history at the wreck of the Scottish Prince. The sea has a lot to offer!
For a more tranquil and relaxed excursion, explore the Gold Coast ocean in areas such as Tallebudgera Creek, Jabiru Island, and The Broadwater. Most destinations allow you to settle on shore for a little picnic and to truly harness the surrounding beauty.
Soar into the sky or dive headfirst into the water as far as you're willing to go by flyboarding in the Main Beach area. If you're an adrenaline junkie or looking for a unique experience, this is definitely for you!
There are bountiful opportunities to whale watch on the Gold Coast, including along Surfers Paradise. Witness the energy of the humpback whale as it soars into the air with refreshments and food galore aboard!
Surfing is a traditional activity in Australia and is offered at a variety of locations on the Gold Coast. From Coolangatta and Burleigh to The Spit, surf the ocean waves and channel your inner-surfer like a true Australian.
Navigate your own way along the Gold Coast on a stand-up paddleboard, which allows you to go at your own pace along the vast seas. From Currumbin Creek and Burleigh to Tallebudgera Creek and Kingscliff, you can relax and tan in style!
To find out more about our amazing excursion packages and prices, or to book an activity, get in touch with us at Jet Ski Safaris on 07 5526 3111 or email bookings@jetskisafaris.com.au today!